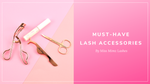 Lash accessories play an essential role in enhancing your beauty. When it comes to applying false lashes, it is vital that you have a selection of high-quality beauty tools to assist you.
We break down the essentials to ease you with your lash application process and why you need them. 
Miss Mimz EZ Lash Curler's sleek, lightweight design lets you achieve an effortless wide-eyed look and lifted natural lashes. It has been designed with easy-to-hold handles which are comfortable and offer a firm grip to avoid pinching and pulling. It also comes with a spare pad that will last you a good few months. Lash curling is a crucial step to consider before applying your favourite false lashes, and using our EZ Lash Curler to do this will enhance your eyes.
If you find that false lashes are too long for your particular eye shape or size, our Miss Mimz EZ Lash Scissors will help you tackle this issue with ease. The curved tip design makes it easy to trim your eyelashes to the desired length. Made of high-quality stainless steel, our EZ Lash Scissors are designed to be long lasting and durable. Its generously sized finger holes allow for firm grip and better control without pinching, whereas its small size makes it convenient to carry and store.
Gone are the days of getting lash glue all over your eyelids, your fingers and the lashes itself! With our Miss Mimz EZ Lash Applicator in your makeup bag, applying lashes will be clean and crisp, no longer forcing you to mess around with sticky, fiddly lashes! Specifically designed to make applying lashes quick and easy, our EZ Lash Applicator is guaranteed to save you time whilst doing your makeup. Utilising an innovative curved shape, it allows you to safely apply lashes in seconds with extreme precision – unlike with using your fingers. Impressively lightweight and small in size, you can slip this EZ Lash Applicator into your pocket or your makeup bag. This allows you to apply, remove or touch up your lashes on the go at a moment's notice.
Miss Mimz Brush-On Eyelash Adhesive
Eyelash adhesive is a requirement for achieving an impeccable lash application for long-lasting wear and all-day hold. Miss Mimz Brush-On Lash Adhesive offers a firm and safe hold of your favourite falsies. It features a thin, flexible brush that makes applying an even amount of glue on your lashes easier than ever. The formulation is free from non-irritating ingredients making it safe for latex sensitive and contact lens wearers. 100% Cruelty-free & Vegan.