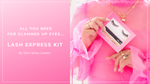 In our pursuit of long, thick and fluffy lashes, we've tried countless mascaras and can confidently say that mascara is just not enough. Lash lifts and extensions have also soared in popularity over recent years, but let's be honest, nothing is as simple and affordable as a reliable pair of false lashes.
However, some people are put off by false lashes primarily because of the perceived amount of time and effort required to apply the lashes. Fortunately, with our Lash Express Kit, you can lash easily with ALL of your lash essentials in just one place!
Let's see what's included in the Kit and why you'll love our Lash Express Kit...
1. AUDREY LASHES 
Audrey - our iconic, wispy & fluttery style! These lashes score the perfect balance between looking natural and bold. You can wear them for both day and night looks. 
We've designed the lash band slightly shorter than our other lashes, so it adheres easily onto your lash line without the hassle of finicky trimming. The lash band is also extremely thin and sits right on the lash line.
2. MINI EZ LINER
If you've ever had trouble applying lashes (even magnetic ones) – we've got you covered!
Our Mini EZ Liner makes lash application as easy as applying your everyday eyeliner. No glue or magnets are involved. Just apply the adhesive liner onto your lash line as you would with any regular eyeliner, then press to secure! That's it! No waiting time is required.
Do take note that, the Mini EZ Liner only comes in black and isn't dual ended unlike the full-fledged EZ Liner.
3. EZ LASH APPLICATOR
Our EZ Lash Applicator is designed for an easier lash hold and will help ensure that you apply your falsies directly onto your lash line every time.
There you go… everything in your wish list is right here in this curated Lash Express Kit.  - The perfect all-in-one kit for lash experts and beginners alike!
Note: Learn how to apply lashes using our EZ Liner HERE