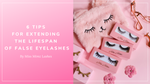 If you wear false eyelashes daily, you're probably an expert at getting the most out of your falsies! But even if you are a newbie, it is pretty easy to maintain the quality of your falsies and get the maximum number of wears out of them.
Here are six tips for extending your falsies lifespan and ensuring they keep their shape:
1. DON'T WEAR YOUR FALSIES TO BED 
After a hard day's work or a little late-night partying, you may feel the temptation to crash into bed. Don't ever do this! Sleeping with your falsies on will either deform the falsies or crease them permanently.
2. ALWAYS REMOVE THE FALSIES GENTLY 
Roughly pulling or tugging your falsies off will cause damage to even the most durable ones. Always remove them gently by peeling them off with care.
3. KEEP YOUR FALSIES CLEAN 
Always remove the glue from the lash band after each use. Not letting the glue build up will ensure the longevity of your lashes. Coat a cotton swab with Micellar water or oil-free makeup remover, then gently rub it along the lash band. Next, either use your fingers or our EZ Lash Applicator to carefully remove the residue. Do this while firmly holding onto the base of the falsie hairs, so that they do not get detached.
4. DO NOT SOAK YOUR FALSIES 
Immersing your falsies in water will damage them! Use a cotton swab with  Micellar water and lightly roll it over the lashes instead. 
5. STORE YOUR FALSIES WITH CARE 
To protect the shape of your falsies, it is always best to store them back in their original tray in between use.
6. DO NOT APPLY MASCARA ON YOUR FALSIES 
While you can apply mascara on your falsies, this will reduce its lifespan. Using mascara on your natural lashes, before you apply your falsies, will dramatically increase its reusability.