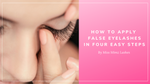 Learn how to apply false eyelashes in four easy steps. 
1. MEASURE 
Hold the lash up against your eyelid. Measure to fit the length of your lash line. Trim the outer corner with EZ Lash Scissors if necessary. 
2. ADHESIVE
Brush a thin layer of Eyelash Adhesive to the lash band and wait for 30 seconds until the adhesive becomes tacky. 
3. CURL 
Gently curl your natural lashes using EZ Lash Curler. Start from the base and work upwards. 
4. APPLY 
Use EZ Lash Applicator to apply lashes as close to your natural lash line as possible and gently press down to secure.